New Mexico Handcrafted Leather Earrings
There's just something about Leather & Turquoise! These beauties are light-weight and full of life. Perfect to add to your favorite casual outfit or mix it up with your favorite date night top and it's simple stylish fashion! We are excited to partner with leather earring artist Hilary Hawks as she brings a different type of earring in several different styles than we've offered before!! 
About the artist and who you are supporting:
Hilary Hawks was born and raised on her family's cattle ranch in northeastern New Mexico. She grew up riding horseback in rough canyon country through juniper, mesquite, and all varieties of cactus that speckled the beautiful landscape. Tooled leather chaps provided much needed protection from the harsh terrain. This kind of upbringing planted the seed of creativity and inspired her love of all things western, especially jewelry. In 2017, she met Doug Hawks, the love of her life and they married in 2020. Together they live on a ranch only a few miles from where she was raised. Although she has spent the last 11 years in education and continues to make her living in this way, she finds peace and satisfaction in the creative process of tooling leather and stringing beads. Hilary's designs pay homage to her love of the Southwest and her ranching heritage. Her jewelry includes a variety of leather, paint, beads, and metal.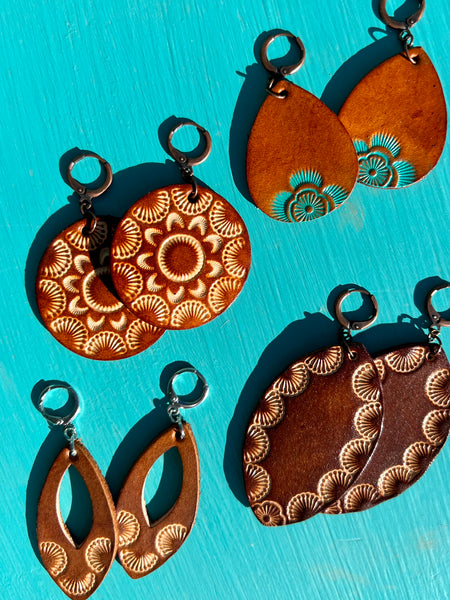 This collection is empty.